اخبار سایت
Shared Hosting vs VPS: Which One Should You Use in 2021?
Trying to understand the difference between shared hosting vs VPS (short for virtual private server)?
Shared hosting and VPS hosting are the two most popular types of website hosting, but they have some pretty big differences. For that reason, it's important to understand what those differences are and the pros and cons of each approach so that you can make the right decision.
To help you do that, we'll introduce you to shared hosting vs VPS, explain the key differences, and help you pick the best option for your needs (along with some recommendations for where to get started).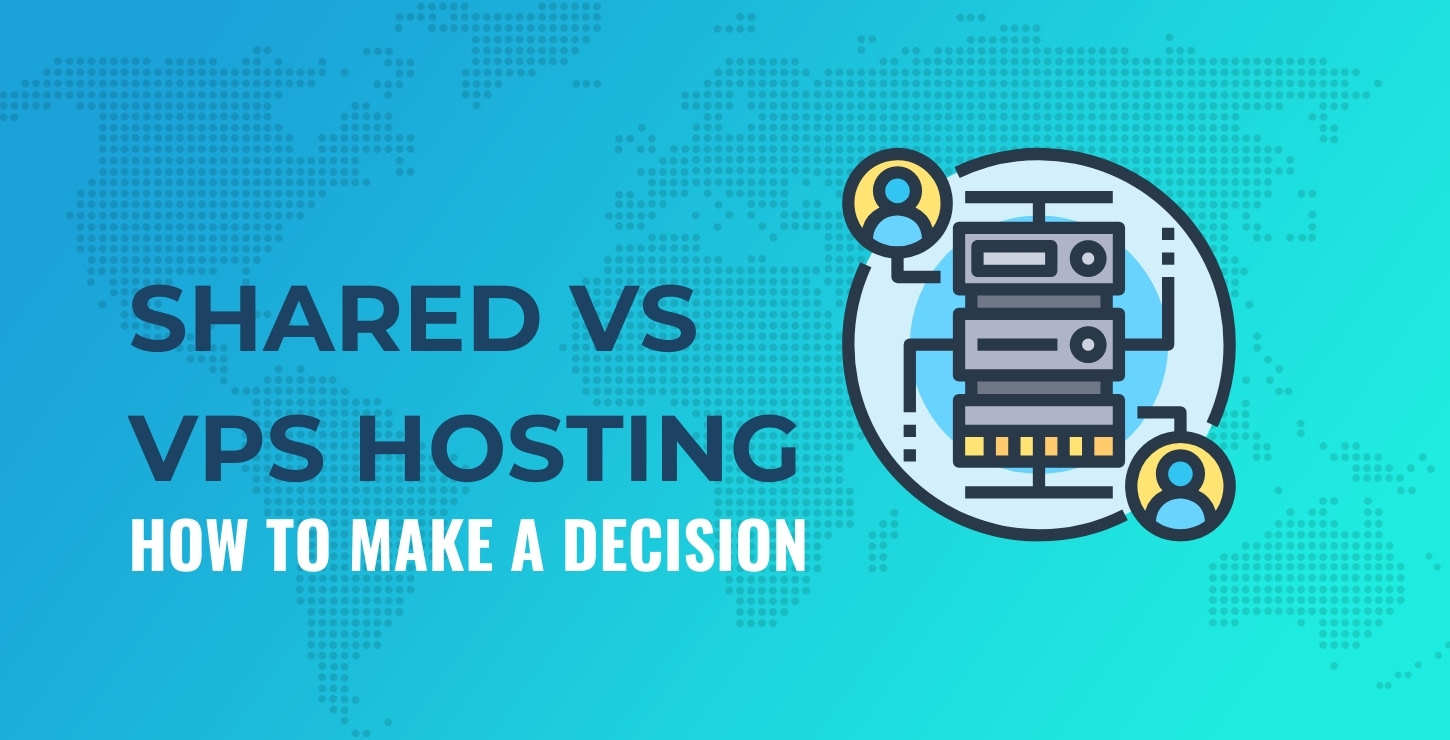 ? Shared hosting vs VPS definitions
Before we can talk about the pros and cons of each approach, we first need to define both types of hosting.
What is shared hosting?
Shared hosting is the cheapest form of website hosting. It's cheap because your hosting account "shares" resources with other accounts/customers on the server.
By sharing resources in this way, the hosting provider is able to keep its costs down and pass those savings on to you.
Of course, the downside of this sharing approach is that your site doesn't have its own dedicated resources. If another account on the server is using too many resources, that can have a negative effect on your sites.
To prevent this situation from happening, shared hosts usually apply some type of usage limit and will cut off sites that abuse resources too much (or ask you to upgrade to a more expensive plan). This is true even if your shared host advertises "unlimited" everything.
With shared hosting, your sites are affected by your neighbors' sites and you have no control over those neighbors. Additionally, your sites can also affect your neighbors, which is why shared hosts might ask you to upgrade if you're consuming more than your fair share of resources.
This setup keeps things cheap, but at the expense of some performance and reliability. Some hosts are better/worse than others when it comes to how many accounts share the resources, which is why you can have big differences in quality between different shared hosts.
What is VPS hosting?
In the hierarchy of website hosting, VPS hosting is the next "step up" above shared hosting. With a VPS, you still share a server with other accounts. But instead of needing to share server resources as well, your site gets its own dedicated resources with a VPS.
For example, let's say there are eight accounts on the server. Well, each account might get 1/8th of the server's resources. Unlike shared hosting, individual accounts cannot affect other accounts because each hosting account is virtually isolated in its own container.
The upshot of this approach is that hosts are still able to keep the costs fairly low because they're dividing the server's resources. But unlike shared hosting, your site still gets its own dedicated resources and you don't have to worry about other accounts having a negative effect on your sites.
Inside the bubble of VPS hosting, there's another distinction – cloud VPS hosting. Cloud VPS hosting follows all the same principles as "regular" VPS hosting, but the difference is in the underlying physical hardware:
"Regular" VPS hosting – you get your virtual share of resources from a single physical machine.
Cloud VPS hosting – you get your virtual share of resources from a network of machines (the cloud).
In 2021 and beyond, most people/businesses are shifting towards the cloud VPS approach, which is why platforms like AWS, Google Cloud, Azure, etc. are growing so quickly.
Beyond that, there's one other important distinction – managed VPS hosting vs unmanaged VPS hosting:
Managed VPS hosting – your hosting provider takes care of installing the needed software and maintaining the server itself.
Unmanaged VPS hosting – you're responsible for everything about your VPS, including installing basic software and maintaining the hosting.
If you're a casual user, you'll definitely want to stick to managed VPS hosting providers.
?? What are the pros and cons of shared hosting vs VPS?
Pros of shared hosting:
It's the cheapest type of web hosting.
Most shared hosts are very beginner-friendly.
You're not responsible for managing your server.
If you choose a quality provider, it can still offer solid performance for low-traffic sites.
Cons of shared hosting:
Your site has to share resources with other accounts on the server.
Most shared hosts don't offer the same level of performance that a VPS does, especially for a high-traffic site.
Your site can be affected by other accounts on the server (called the "bad neighbor effect").
You have less control over your server's configuration.
Pros of VPS hosting:
You get dedicated resources for your site.
A quality VPS plan will offer better performance than shared hosting, especially as your site's traffic increases.
Your site won't be affected by other accounts on the same server because of the virtual isolation.
You can easily scale your VPS plan as your site grows just by virtually adding more resources.
VPS hosting can still be fairly affordable for the performance it offers, especially with a cloud VPS provider.
Cons of VPS hosting:
VPS hosting doesn't give you "unlimited" resources like a lot of shared hosts offer (even though there's no such thing as truly unlimited hosting).
VPS hosting is usually a bit more expensive than shared hosting (though not always).
If you want to use an unmanaged VPS, it requires a lot more technical knowledge. You can avoid this by using a managed VPS, but you'll pay a little bit more money.
?️ Performance of shared hosting vs VPS
So far, we've talked about how a VPS will usually be faster than shared hosting since it gives you dedicated resources. However, sometimes seeing is believing. So rather than just talking about these concepts in the abstract, we ran some real performance tests to illustrate the difference.
To do this, we set up accounts with three popular hosts that offer both shared plans and VPS plans:
Then, we ran the same performance tests with identical test sites on both the shared and VPS plans from each host. Here's how the data shook out:
Shared hosting vs VPS: PERFORMANCE
(Load times in seconds)
In almost all of the tests (except for some Bluehost numbers from Europe and Asia), you can see that the VPS plan performed better than the shared plan. Additionally, these are just one-off tests, so you'd likely notice even larger differences in more real-world situations where you have multiple people browsing at the same time.
Of course, this is to be expected. The VPS plans are all more expensive than the shared plans, so it wouldn't make any sense if they didn't perform better. Basically, this is just showing that you really do get your money's worth if you upgrade from shared hosting to a VPS.
? Should you use shared hosting vs VPS?
Whether you choose shared or VPS hosting should mostly depend on where you're at in your journey.
If you're just getting started and you want something affordable that will get the job done, it's totally fine to start off with shared hosting. Shared hosting is both affordable and user-friendly, which is a good combo for helping you get online.
However, as your knowledge level increases and as your site's traffic grows, you'll probably want to start thinking about moving to a VPS because having dedicated resources will help your site load quicker and more reliably.
Additionally, cloud VPS hosting can offer surprisingly good value for the money when it comes to performance. Even a $5 per month cloud VPS from a provider like Vultr or Digital Ocean will let you host multiple sites and load very quickly (especially with smart full-page caching). While these cloud providers only offer unmanaged VPS, you can find user-friendly tools to help you still use cloud hosting such as Cloudways, RunCloud, GridPane, or others – more on that next.
Depending on your needs, you might even be able to get faster performance for less money from a cloud VPS, though you'll need a little more tech aptitude to accomplish this (which is why shared hosting makes a good option for beginners).
⏲️ TL;DR:
Use shared hosting when you're just getting started.
Consider moving to a VPS as your site grows (and your own knowledge level increases).
? Best shared hosting providers
If shared hosting is a better fit for your needs right now, here are some of the best shared hosting providers:
Pricey for shared hosting but offers good performance and support. Plans from $6.99 per month.

Solid all-around shared hosting product with a focus on using renewable energy. Plans from $2.49 per month.
Another solid all-around offering with competitive prices. Plans from $4.99 per month.
You can also check out our collection of cheap WordPress hosts for some other options.
? Best VPS hosting providers
If VPS hosting is a better fit for your needs, here are some of the best VPS hosting providers.
We'll share two sets of recommendations – providers that offer managed VPS plans (or maybe both managed and unmanaged) and providers that exclusively offer unmanaged VPS plans.
Here are some of the best managed VPS providers:

Lets you choose your own cloud VPS from five different providers. A neat blend of cloud VPS hosting in a simpler managed package. The cheapest option is a Digital Ocean VPS at $10.00 per month.

A bit pricier with managed VPS plans from $35 per month or unmanaged plans from just $5 per month.
For some other options, check out our collection of the best cheap VPS providers.
If you're specifically interested in an unmanaged VPS, your best bet is usually to go with one of the popular cloud VPS providers. These are:
Remember – these are completely unmanaged instances, so you'll need some technical knowledge to manage and configure them! To simplify things, you might want to use a server control panel such as cPanel, Plesk, RunCloud, or GridPane (only for WordPress sites). For example, migrating WordPress sites to RunCloud is fairly simple and you'll be able to manage everything from a user-friendly dashboard.
? Pick the best hosting for your needs
To recap, with shared hosting your sites will actually share resources with other accounts on the same server. This is totally fine for low-traffic sites, but it can be a problem for larger sites as your site doesn't get dedicated resources and it can be affected by other accounts on the server.
VPS hosting offers an affordable fix by giving your site its own dedicated resources within a server.
When you're just getting started, shared hosting can be a good place to begin. However, as your site(s) grows, you'll want to consider making the switch to VPS hosting for improved performance and reliability.
Or, if you're using WordPress, you might want to use managed WordPress hosting, which is another type of hosting that's specifically designed for WordPress sites. Check out our shared vs managed WordPress hosting comparison to learn more about this type of hosting.
Still have any questions about shared hosting vs VPS? Ask us in the comments section!
…
Don't forget to join our crash course on speeding up your WordPress site. With some simple fixes, you can reduce your loading time by even 50-80%:
Layout and presentation by Karol K and Chris Fitzgerald.
* This post contains affiliate links, which means that if you click on one of the product links and then purchase the product, we'll receive a commission. No worries though, you'll still pay the standard amount so there's no cost on your part.