Are you looking to use a geolocation plugin on your WordPress website?
Finding where your visitors are coming from can help you create personalized experiences. You can show marketing campaigns to people from specific countries, boost engagement, and increase conversions.
In this article, we will take a look at the best WordPress geolocation plugins.
Why Use a WordPress Geolocation Plugin?
Geolocation plugins can help you learn about your visitors' physical locations so that you can create custom user experiences. By using geotargeting in WordPress, you can show relevant and location-specific content and products to people.
As a result, you will see an increase in engagement, build trust with your audience, and get higher conversions on your WordPress website.
There are several ways to use geolocation plugins. For instance, you can create marketing campaigns in your eCommerce store and show discounts and shipping offers to customers from specific countries.
If you have a physical store, then tracking geolocation can help you get more customer reviews for your business. You also display map pins to users that are in your region and direct them to your business.
Similarly, you can showcase your best content to users from different locations. Let's say you have a food blog with an article on the best places to eat in Indonesia. Using geotargeting, you can display this content as a popup to people from that region.
Another advantage of using a geolocation plugin is content locking and preventing unwanted access to your site. With geolocation, you can restrict access to articles or parts of your website to users from different countries.
If you are running an affiliate website, then geotargeting can also help you show the correct affiliate links or products to visitors based on their location.
That said, let's see which is the best geolocation plugin for WordPress.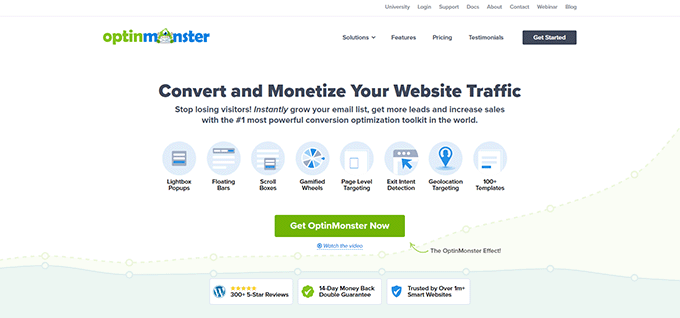 OptinMonster is the best lead generation and conversion optimization software for WordPress websites. It helps you grow your email list, get more leads, and boost conversions.
OptinMonster offers a drag-and-drop campaign builder and dozens of beautiful templates for your marketing campaigns. You can create popups, floating bars, fullscreen messages, slide-in popups, and more.
The best thing about using OptinMonster is that it offers powerful display rules. For example, you can use the Physical Location display rule to geotarget your campaigns to users from different countries.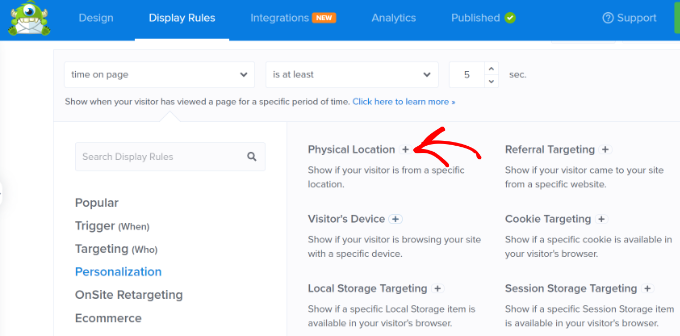 The Physical Location rule lets you show relevant content, discounts, and other campaigns to the right audience.
You can also translate your targeted message into different languages and then display it to users from a particular country.
Here's a preview of a campaign by Sportique, where customers in San Fransico get free delivery for orders over $80.
OptinMonster also lets you combine geolocation targeting with other display rules.
For example, you can use its Exit-Intent technology to show a popup to users who are about to leave your site. Or you can schedule location-based campaigns and display offers to visitors in a particular timezone.
Besides that, OptinMonster easily integrates with leading email marketing software. Plus, there are lots of customization options in the campaign builder.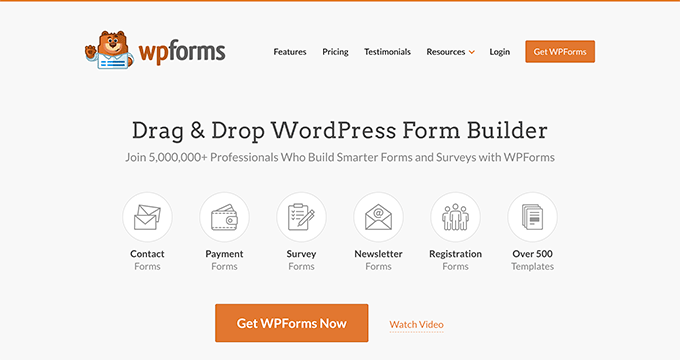 WPForms is the best contact form plugin for WordPress. It is a beginner-friendly plugin that offers a drag-and-drop form builder, tons of form templates, customization options, and more.
WPForms has a Geolocation addon that helps you collect location information with form submissions. You can find out which country, state, and city your users are from.
This helps you better understand your audience by tracking their journeys and providing personalized experiences. You are able to show targeted messages based on the user's location and turn leads into customers.
Using the WPForms Geolocation feature, you can also embed Google Maps into your forms. The feature can autocomplete form entries, making it easier to enter an address quickly. Users can even adjust the location pin on the map to enter their location.
Besides that, WPForms lets you accept file uploads, create multi-page forms, offer user registrations, set up surveys, capture partial form entries, make conversational forms, and more.
Alternatively, if you need an advanced form plugin that offers the geolocation feature, you might want to consider Formidable Forms.
MonsterInsights is the best Google Analytics plugin for WordPress. It makes it super easy to add Google Analytics to your WordPress website without editing code or hiring a developer.
MonsterInsights shows important data using analytics reports inside your WordPress dashboard. For example, you can use its Top Countries report to see where your website visitors are coming from.
Using this data, you can better understand your audience and create content or offers for users from different locations.
Aside from that, MonsterInsights also helps set up advanced tracking on your website. For example, you can track eCommerce performance and see which products drive the most sales. Similarly, the plugin also helps track form conversions in WordPress.
Other features offered by MonsterInsights include link and button click tracking, custom dimensions, site notes and annotations, top keywords, and more.
GeoDirectory is the next WordPress geolocation plugin on our list. If you have a directory website and want to show global listings, then this is the right plugin for you.
It works with popular WordPress themes and page builders. You can easily create business directories with maps, locations, reviews, and addresses using GeoDirectory.
The plugin also offers different addons. For instance, you can use the location manager to add unlimited locations, easily switch between other locations, add smart search on your website, and more.
GeoDirectory includes other features, including a powerful events manager, automated business owner claims, spam protection, and integrations with WordPress backup plugins.
PushEngage is the best push notification software for WordPress. It is very easy to use, and you can step up push notifications on your website without hiring an expert.
Push notifications are short messages that appear in your user's browser. They have a high open rate since people already opt-in to view these notifications.
Using PushEngage, you can create personalized messages based on the user's geolocation. The plugin lets you segment your subscribers based on their region. This way, you can send targeted notifications to users from specific regions.
With PushEngage, you can also A/B test your messages, create automated drip campaigns, send offline notifications, set up smart triggers to send messages, and more.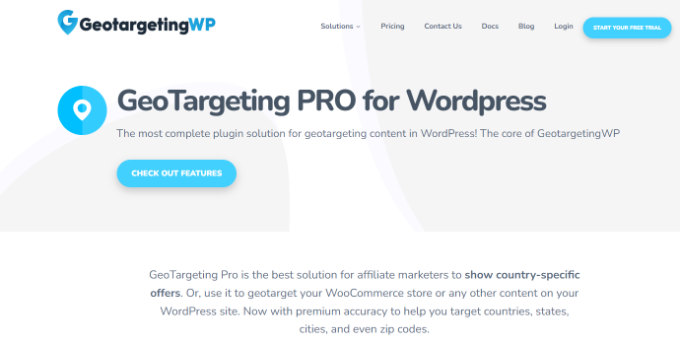 GeoTargetingWP is another geolocation WordPress plugin that helps you show content and products to users based on their location.
The plugin is a great solution for affiliate marketers because you can show country-specific offers. For example, the plugin lets you display particular affiliate products and links based on the user's location.
With GeoTargetingWP, you can also restrict access to different content or parts of your website based on geolocation.
Similarly, you can also use GeoTargetingWP in your WooCommerce and Easy Digital Downloads store. The plugin will let you restrict access to your products based on the customer's location. This feature is really helpful if your products can't be shipped to certain areas.
Other than that, the plugin will auto-detect the user's location and help you set up geotargeting based on country, city, state, zip code, or radius. It can also create geotarget menus and widgets for WordPress blogs.
TrustPulse is the best social proof plugin for WordPress that helps boost conversions on your website by up to 15%.
The plugin uses the fear of missing out (FOMO) effect to display user behaviors on your website as social proof. This helps build trust with your visitors and increase sales.
With TrustPulse, you can use geolocation to show a recent purchase to users from specific locations.
For example, let's say someone from Boston buys a product on your site. You can then show this notification to other visitors from Boston as social proof.

TrustPulse can also help show live notifications for demo registrations, survey completions, email signups, and more based on the user's location.
The plugin is super easy to use, and you can set up targeted notifications in no time. It also offers different customization options, conversion rate tracking, analytics reports, and more.
Geolocation is a free WordPress geolocation plugin that allows you to add geotags to content on your website. Using the plugin, you can add a location or address to any blog post or landing page.
Once you have added the geo-information to your content, visitors will see a short description before, after, or at a custom location within the blog post or page.
Geolocation also lets you add a map with a pin to content on your site. You can use a shortcode to display this map. The plugin works seamlessly with Google Maps and Open Streetmaps.

CloudGuard is another free WordPress geolocation plugin that uses the power of the cloud and a content delivery network (CDN) to restrict access to the login page.
The plugin adds an extra layer of security to your WordPress website. It helps protect unwanted login attempts from specific locations. You can select which countries users can log in from and block access from other regions.
CloudGuard is a lightweight plugin because it uses Cloudflare's free geolocation service. This means that you won't have to worry about your website being slowed down by the plugin.
The plugin also helps you monitor login attempts in your WordPress dashboard. It even displays a world map showing where the unauthorized logins have occured.
What Is the Best WordPress Geolocation Plugin?
If you want to run targeted campaigns based on the user's location, then OptinMonster is the best WordPress geolocation plugin in our experience. It offers powerful display rules and multiple campaign types to choose from. Plus, you can combine different targeting rules to show your campaign to the right audience at the right time.
On the other hand, if you are looking to learn more about your visitors and find out where they are coming from, then WPForms and MonsterInsights are the perfect plugins for the job. They will help you see the top countries that drive traffic and track user journeys across your WordPress forms.
Besides that, you can use GeoDirectory to show global listings on your directory website. Or PushEngage can help you send targeted push notifications to users based on their location.
We hope this article helped you learn about the best WordPress geolocation plugins. You may also want to see top picks for the best virtual business phone number apps and our guide on how to increase blog traffic.
If you liked this article, then please subscribe to our YouTube Channel for WordPress video tutorials. You can also find us on Twitter and Facebook.